Best Of Cyber Monday Memes
Now is time for the Best Of Cyber Monday Memes! Still stuffed with Turkey from Thanksgiving, then suffering through hours of waiting in lines at the shopping mall during Black Friday and that was even if you could locate a parking space. Then the sniffling and caughing as you shared the germs of thousands of toy seeking brain dead zombines hellbent on receiving their doorkicker savings.
Let's stop and give thanks that we don;t have to experience that again or at least for another year. Instead we get a dose of savings others found by shopping on-line. Cyber Monday! Now for a few of the funnier memes associated with this modern day miracle of computer shopping!
There is no relief from Black Friday to Cyber Monday!
Another perspective on Cyber Monday!
Someone who actually gets it!
The force is NOT strong with this one.
Focus!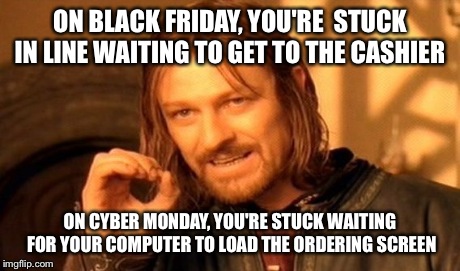 Possibly but not at Vision-Strike-Wear.Com.
 No kidding. The Joker speaks the truth!
Not available on line or on Cyber Monday….yet!
Experiences may vary!
This will not happen on-line. Just saying.
So whether you are still in jor pretty pink jammies and surfing the net on Cyber Monday or jsut catching your first cup of coffee for the day remember that shopping on line is the best way to experience shopping with or without your clothes on!
Help Heal Our Vets!
Help Heal Our Vets in collaboration with Vision-Strike-Wear.Com is announcing its efforts to raise awareness of issues and support that help our US military veterans. There are many very important organaizations and military non-profits whose goal it is to support our veterans and put the much needed funds into their hands where it can do our veteran's the most good. This is what
Helphealourvets.Org
does.
Your purchase of the Helphealourvets.Org hoodie allows all proceeds to be donated to military charities and organizations who do the job right and take care of the veterans. No more red tape or layers of bureacratic salaries that produce little nothing for our veterans. These dollars go to the veterans. Your purchase of this hoodie makes this possible.
This Veteran's Day will mark the beginning of the fundraising campaign created by Healp Heal Our Vets and between this Veteran's Day and next years Veteran's Day 2015 where we will announce the amount that will be donated to the organizations that do the most good within the veteran community. We are excited to partipcate and be part of a fundraising campaign whose sole purpose is to help heal our veterans.