It's more than just recognizing our men and women in uniform. It is also about honoring their legacy and the Soldiers, Sailors, Marines, Airmen, Coast Guardsmen that served with honor in all the preceding generations that have put on the uniform of the United states military and served with honor and professionalism. The sporting events with US flag and military branch flags displayed provide a glimpse on the occasions when they are displayed that show the public that our men and women serve not just once in a while but all the time and that while we as Americans enjoy our way of life and our freedoms it is our military that ensure it day after day. May honors the troops because we recognize that America exists because our military ensures we continue to live as a free society.
Military Appreciation Month, as one might guess, is the month we Americans take out of every year to celebrate, honor and appreciate the sacrifices of the men and women in uniform. It was established by Senator John McCain in 1999 (A Veterans of the Cold War, a Naval Aviator and more) intended as a symbol of unity and appreciation for servicemembers, veterans, and their families.
Every year in the month of May we celebrate National Military Appreciation Month (NMAM). The month was not chosen at random: on May 29th of each year we celebrate Memorial Day, a federal holiday dedicated to the military's fallen. It is, in essence, the cap of an entire month of observances dedicated to the men and women of the armed services and their families. Here's a comprehensive list of 2017's NMAM observances each with its own focus and importance:
MAY 1ST: LOYALTY DAY
The month begins with a proud look at our American heritage. It's a day set aside to reaffirm our dedication to the United States, a day where we can together look to the future and be proud of where we've come from. It's been a long road behind and it'll be a long road ahead, but we're Americans. We are unique in that we are very independent as individuals but agree that we can dna do come together as a people, as a culture of red blooded, freedom loving Americans that will work together as a team when called upon to preserve our way of life. We'll get there.
MAY 7TH-13TH: PUBLIC SERVICE RECOGNITION WEEK
This week, as you might guess, is intended to celebrate and honor the service of our local, federal, and state employees. They get a bad rap more often than not but isn't always the case and no they aren't all DMV workers of VA administration. But consider this: a disproportionate number of government employees are former military. Not all of them are military but many are. This list also includes employees of federal agencies, like the FBI, CIA, ICE, FEMA, Homeland Security, not to mention state and local police officers.
Respect where respect is due.
MAY 8TH: VE-DAY
Otherwise known as Victory in Europe Day. It just wouldn't be right to have an entire month dedicated to the armed forces without giving a solid nod to that time in 1943 when we beat the everloving tar out of the Nazis.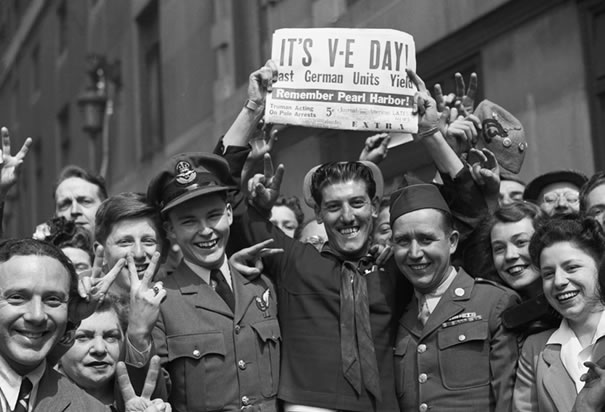 MAY 12TH: MILITARY SPOUSE APPRECIATION DAY
We've all heard the horror stories about dependapotamis. Remember? I had you at Tri-Care. For a minute, though, appreciate the fact that there a lot of husbands and wives married to our servicemembers who raise children and maintain lives stateside alone while their spouses are overseas fighting the good fight. The spouse of a deployed military service person may be one of the hardest jobs out there keeping household intact, kids in school, making sure bills are paid, keeping a job down and ensuring the safety of one's family all important things that are done while the other head of household is gone for a year at a time in many cases.
If you think that's trivial, consider this: how effective would our guys be if they knew they were coming home to a dilapidated house, underfed kids, and unpaid bills? Coming home to security and solidarity is worth its weight in gold. I'm here to tell you, there's nothing better than coming back from 11 months overseas to a hot meal, a warm bed, and a good woman.
MAY 20TH: ARMED FORCES DAY
This is the day during NMAM that we set aside to appreciate our active and reserve forces in all branches. These are our active duty military that put on the uniform of the United States military in all branches and go to work and lay it on the line each and every day. When you're out on May 20th and you see a soldier, sailor, marine, or airman in uniform, shake their hand. It might sound trivial, but you've got no idea how important it is to troops who may be having a rough go of things, knowing that the American people have their back.
MAY 29TH: MEMORIAL DAY
Memorial Day is a federal holiday, celebrated the last Monday in May of every year. It's the day we set aside our political differences (God knows we need to an more than one occasion) and squabbling, bickering  and honor the sacrifices of millions of men and women who have given their lives in the name of this country. All the battles, wars, engagements and the engagements America has ever been in are remembered and those that answered the bugle's call.
You might disagree with the war. You might disagree with the politics. Never, ever disrespect the fallen, because whether you asked for it or not, you enjoy the freedom that they died to protect every single day. As Americans we rise above our personal desires and interests and remember our fallen because without them our country would not exist.
At Vision-Strike-Wear.Com we are doing our part to pay respect to our men and women in uniform during Military Appreciation Month by releasing new products all month long! Check back often to see the next great project hitting the shelves.
Get a t-shirt or challenge coin for your military friends and family to show your appreciation for the amazing things they do for our country every day!